Anything you see inside Palma cathedral will come as a disappontment once you have stood on the seafront and gazed up at its golden sandstone exterior climbing above the old city walls. La Seu stands out uttery from its surroundings, a demonstration of the might of Mallorca's Christian conquerors to all who arrived by sea.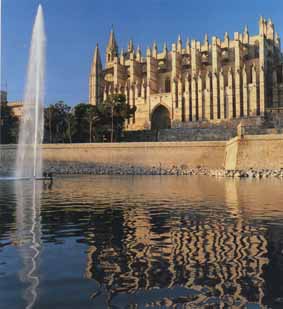 Tradition has it that a storm arose as Jaume I was sailing towards Mallorca. He vowed that if he landed safely he would build a great church in honour of the Virgin on New Year's Day 1230, a day after the fall of Palma, the foundation stone was symbolically laid on the site of the city's main mosque. Work continued for 400 years - and had to resume in 1851 when an earthquake destroyed the west front. More touches were added this century by the Catalan architeat, Antoni Gaudi.
You enter through a side door, passing a small museum, head for the west portal and gaze down the long nave. Light pours in through the rose window, one of the world's largest, 12m across and studded with 1,236 pieces of stained glass. The columns are ringed with wrought-iron candelabra by Gaudi; his most controversial addition is the unfinished Crown of Thorns, fashioned from cardboard and cork and suspended above the altar.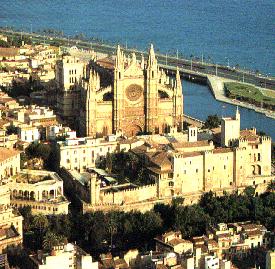 Be sure to walk around to the south front, facing the sea, to look at the Portal del Miradon a 15th-century door by Guillem Sagrera featuring scenes from the Last Supper.