Climbing, Hiking, Canoeing, Wandering
Mountain bike and cicling, 4x4 Jeeps, Paragliding.
---
Mallorca

Activa
---
Nature adventures the whole year through.
Dive into the adventure and discover Mallorca from a different side. Wild nature, unknown areas, emotions and new sensations. Take part in this attractive alternative and get ready for a very special holiday!
4x4 Jeep courses
Day trips for all fans of this sport. If you are a beginner or a pro, everybody can join. Theory and practical lessons in a special prepared area.
Daily price for the driver 11.800 Ptas.
Daily price for accompants 1.200 Ptas.
Hiking
Guided tours over the whole island, especially through the Tramuntana mountains. Different levels of difficulty. Sa Costera - Cala Tuent, Torrent de Pareis, Port de Valldemossa - Sa Foradada, Valldemossa - Camino del Archiduque...
6 - 10 Pers. 2.500 Ptas
11-20 Pers. 2.400 Ptas
20 and more 1.990 Ptas
Canyon descent
Day trips also with different levels of difficulty. Torrent de L'Ofre, Torrent d'es Guix, Torrent d'es Gorg d'es Diners, Sa Fosca
6 - 10 Pers. 5.500 Ptas
3 - 6 Pers. 7.700 Ptas
Rock climbing
In all parts of Mallorca with different levels of difficulty for beginners or experts.
Min. 4 Pers. 4.400 Ptas
Beginners course 11.000 Ptas.
Mountain bike and cicling tours
Well selected day tours over the whole island. Length and level of difficulty will be discussed with the group.
8 to 50 Pers. 4.900 Ptas.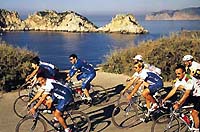 Canoe and sea kajak tours
Excursions through the coastlines from Cabo Blanco and Tramuntana. We have canoes and kayaks for all kind of demands, also for beginners.
6 - 30 Pers. 6.600 Ptas
Adventure day
An exciting day with different activities. Archery: theoretical and practical lessons with competition. Climbing: First excercises on a natural build stonewall. Orientation games: Learning how to read a compass and orientation in the landscape.
10 - 50 Pers. 5.500 Ptas.
Orientation walk
Find you way in the open landscape and locate different places with compass and maps. After the walk, different sporting activities are available.
Min. 20 Pers. 3.300 Ptas.

Are you interesting in any of the above?
Do you want to know which courses will take place during your vacation?
Do you want to subscribe to any course?

Visit our sponsor



All year....



Online Booking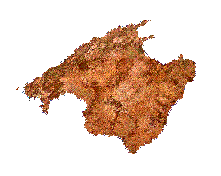 Other sports :
Golf | Football | ciclismo | Diving | Beach Volley | Surf | Senderismo |