Golf Son Antem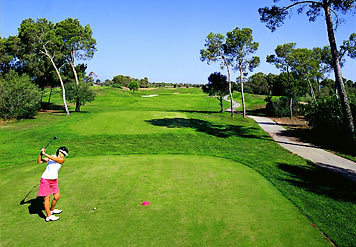 PM: 602 - Km. 3,4-LLUCMAJOR
Tel:3471 180094
Opened: 18 holes All Year
Men's Tees 6,052 - 6,317 m-Ladies Tees: 5,071 - 5,305. Par: 72/S.S.S.:72
Greens Fees (approx): 75 eur
Mallorca Marriott Son Antem is the only resort in the area with two 18-hole courses, and features an impressive driving range and Golf Academy staffed with PGA pros. Mallorca,s newest golf course , opened May the 11th 1998 .Son Antem was created as a project of social interest that arose around the hot springs that are found on the estate.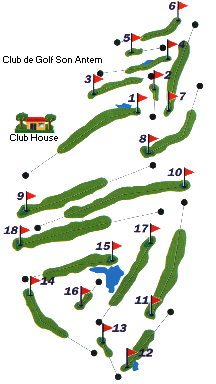 The hot springs that bless Son Antem, have water of between 35 and 40 degrees centigrade. For this reason the project is called Son Antem Golf and Spa. In its first phase, an 18 hole golf course and an Academy were set up, plus a practice course with a tee-playing area large enough to hold more than 20 or 30 groups. The clubhouse, at this time, is an old Mallorcan house, a very welcome asset to the countryside.
The course was accepted extraordinarily quickly. Its Manager, José Luis Carles confirms that "its design is very pleasant for the mediocre player. It is a course that can be made easier or more difficult by simply moving the position of the tees and flags. It can't be too bad a course, since, what people normally do after playing, is book-up for another day."
Projects in the pipeline will begin with the construction of a new clubhouse, a hotel, some apartments, and an area around the spa. The leit motif of the whole project are the hot springs.
With the passage of time, the course has not changed but what has changed is the surrounding area where there used to be little more than woodland and wild olive groves. With the development of 5 lakes, the wildlife has increased. Today, we see the arrival of herons and other birds that migrate over Mallorca on their way to Arica. The course is placed in an former hunting region and clearly what exists is a large quantity of animals. We have not planted anything else, only the pines which were taken out when the course was built. The course itself progresses logically; the round begins with easy holes and becomes more complicated as it goes along. It has a great variety of options in both the positions of tees and flags. This wide, flat course with large greens and fairways and rough in perfect condition, has the appearance of being much easier than it in fact is.
The majority of its players are Europeans, central Europeans and English, with a growing Scandinavian contingent. Thanks to the Academy, Son Antem holds the official seat of the Escuela Balear de Golf (Balearics Golf school) Twice a month they have preliminary and advanced couses for children.
Son Antem employs an electronic sprinkler system that both channels and regulates the waters that come from the water purification plant at Lluchmayor. This course is popular the whole year round, even in summer, when it receives school groups from the mainland; some 100 children who come every year to learn English and to play golf.